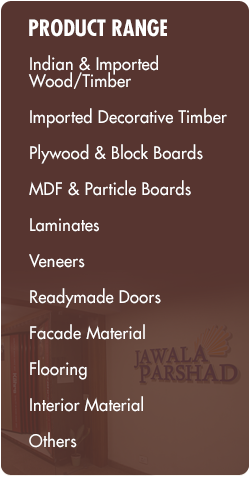 Facade Material
Brand – Greenlam, Shera
Cemented Fibre Planks
Fiber cement is a building material used to cover the exterior of a building in both commercial and domestic applications. Fiber cement is a composite material made of sand, cement and cellulose fibers.
Product Application
---
Cemented Fibre Boards 
Fibre cement board with high impact strength and moisture and fire resistant properties The cement core makes it water resistant and this board can retain its strength even in a wet state. It is suitable for use in ceilings and drywall applications in wet areas.
Cemented Fibre board is the perfect choice for building board applications such as wall cladding, wall partitioning and decorative walling. The types of buildings that are suitable for Cemented Fibre board applications are residential, commercial and industrial buildings as well as schools and hospitals; especially where speedy construction, cleanliness and hygiene is of high importance.
Product Application
HPL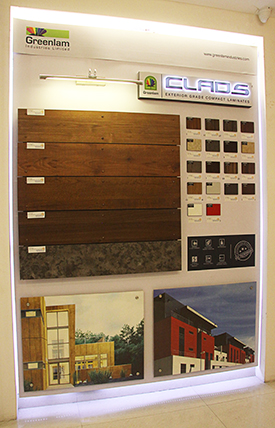 HPL is the direct descendent of the original plastic laminate. It is considered to be one of the most durable decorative surface materials and is available with special performance properties including chemical, fire and wear resistance. Special grades of HPL can be post-formed around curved edges by application of heat and restraint.
HPL is produced by saturating multiple layers of kraft paper with phenolic resin. A layer of printed décor paper is placed on top of the kraft paper before pressing. The resulting sandwich is fused together under heat and pressure (more than 1,000 PSI).
Special custom laminates can be produced to match the theme or décor of any environment.
Because phenolic and melamine resins are thermoset plastics, the curing process transforms the resin into plastic by a cross linking process that converts the paper sheets into a single, rigid laminated sheet. Thermosetting creates strong, irreversible bonds that contribute to HPL's durability.
HPL is laminated to a panel utilizing a variety of adhesives. Particleboard or MDF are the preferred substrate because they provide a stable, durable, consistent and economical foundation. Due to its durability, HPL is a common choice for horizontal surfaces including flooring, countertops and desktops.
High Pressure Laminate is considered one of the most durable decorative surface materials and performs very well for horizontal applications such as countertops and furniture.
It also performs well in horizontal and vertical applications for high traffic settings such as hospitality, office furniture, healthcare, retail casework, commercial interiors and educational facilities.
HPL's durability makes it perfect for laminate flooring and office furniture.
HPL countertops aren't just for kitchens; they can stand up to the rigorous demands of science labs and classrooms.
Common Uses
Countertops
Tabletops
Flooring
Cabinetry
Case Goods
Furniture
There are many types or grades of high pressure laminates engineered for specific performance requirements:
Product Application
---
Other Decking Solutions
IPE Wood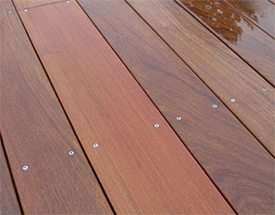 IPE is a wood of extremes: extremely dense and durable. Its incredible hardness and strength make it well suited for flooring, decking & Facade applications, it is referred to as "Brazilian Walnut" though it is not related to true Walnut.
Rated as very durable; excellent insect resistance, Superb weathering characteristics. It is said to have lasted 25 years before it need to be replaced. An amazing lifespan given the amount of traffic and environmental stresses put upon the wood.
One of the most prized hardwood decking timbers in the market.
Stable, very durable and strong.
Chemical free.
Rich dark colours, marbled grain.
Weathers evenly.
Large variety of lengths for different designs and budgets.
Available Pre-grooved (Routed) sides for easy installation.
Product Application