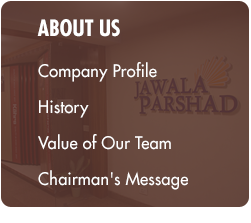 Jawala Parshad & Co. Pvt. Ltd. is Delhi's one of the most comprehensive source for complete wood solutions. Since 1971, JPC have been serving the customers with exceptional service and quality products.  The difference is we treat our customer's needs as our own. Customer satisfaction, the commitment of our people, and the environmentally safe workplace practices we uphold are the reasons behind our success for over five decades.
We distribute the region's most extensive selection of Laminates, Timbers, Plywoods, Veneers, Floorings, Facades and other interior and exterior building materials. Our vast product offering serves the needs of leading multi-family and large development builders, custom builders, designers, remodelers, and individual homeowners.
Quality service makes us your partner in your building project. We can provide your product at the time and place of your choosing, as we always have ready stock in our store. So we can provide you with the products you need when you need them. Our Sales managers can provide you with selection advice to ensure your enduring satisfaction.
We guarantee the highest quality, and unmatched customer service.
Please contact us for additional information and product details.