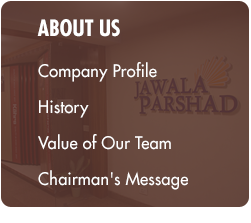 Transparent. Accountable. Focused on customer.
At JPC, we have a team that share in our values and culture, putting customers first and central to everything we do.
Jawala Parshad is full of smart, self-driven people who care a lot about getting it done, and the relationships we build. People tell us we are down-to-earth, approachable and fun. All of us are dedicated to ensure that our customers have a positive customer experience. We remain committed, keeping you first in everything and we do that by learning how we can best partner with you to provide value and useful, reliable products. What we do, we do well. We have a passion for our clients' true results and a pragmatic drive for action that starts every morning 10am and doesn't let up. Putting our Customers First is our core value. If it is to be, it's up to us. We must ensure that we delight every customer in every interaction they have with Jawala Parshad and we never do it alone. We support and are supported to develop our own personal results stories. We work hard, but we enjoy what we do.